There's a frenzy in the world to become a millionaire as fast as possible and in any way possible.
Yet it's frightening to think that the average minimum-wage worker would only be able to earn $1,000,000 after 32 years.
Thanks to ChatGPT, I've run the numbers and calculated how to become a millionaire — in theory.
The chart below details what anyone must do to be able to acquire $1 million dollars.
All you have to do is exchange a number of items for a certain price, and voila, you're a millionaire. Check it out:
How to Become a Millionaire Chart for Dummies (No Offense)
| PRICE OF ITEM | # OF ITEMS TO SELL TO BECOME A MILLIONAIRE |
| --- | --- |
| $1 | 1,000,000 items |
| $5 | 200,000 items |
| $10 | 100,000 items |
| $25 | 40,000 items |
| $50 | 20,000 items |
| $100 | 10,000 items |
| $150 | 6,667 items |
| $200 | 5,000 items |
| $250 | 4,000 items |
| $500 | 2,000 items |
| $1,000 | 1,000 items |
| $1,500 | 667 items |
| $2,000 | 500 items |
| $2,500 | 400 items |
| $3,000 | 333 items |
| $3,500 | 286 items |
| $4,000 | 250 items |
| $4,500 | 222 items |
| $5,000 | 200 items |
| $7,500 | 133 items |
| $10,000 | 100 items |
YOU'D BE AN INSTANT MILLIONAIRE IF YOU SOLD 1 ITEM FOR $1 MILLION 🤯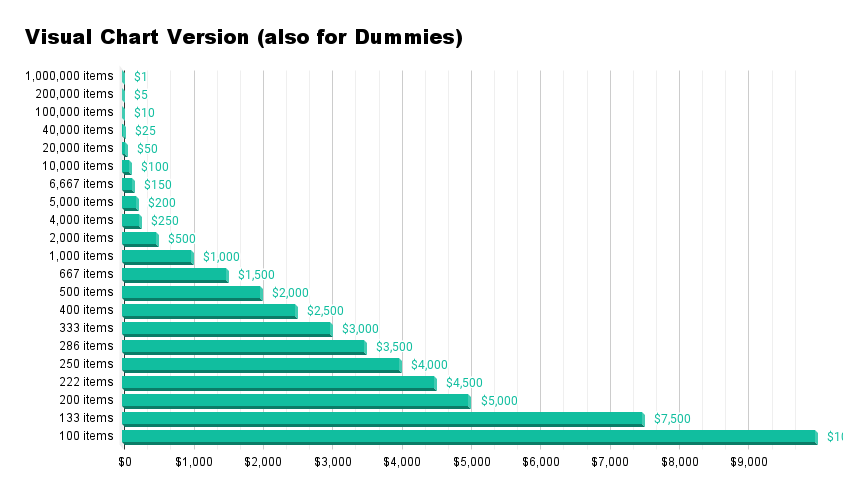 Not helpful, right?
No matter how long you look at those charts, it's not going to put a million dollars into your bank account or crypto wallet.
However… I think it's important to visualize what it takes to go from nothing to stuffing $1 million dollars in your pockets.
Reexamine the charts above and visualize an item you could provide, such as:
An hour you work
A service you deliver
A product you sell
Let's take a closer look at each.
An hour you work
Let's assume flipping burgers at McDonald's will provide you with a minimum wage hourly.
We already know how long it'll take to become a millionaire this way, so let's flip the script and focus on a guy like Jordan Peterson.
Jordan Peterson has publically stated that he charges $35,000 USD for a speaking event. These events typically last for roughly 90 minutes to 2 hours.
If we exclude the time it takes to travel to an event along with the costs to get there — Jordan's hourly is between $17,500 to $23,333.
For Jordan to put another million in his pocket, all he has to do is 40 to 50 more events.
W
A service you deliver
There is an unimaginable number of services you could provide to make all kinds of money.
Here's a quick list, ranked from what is generally considered the easiest to make money with:
Freelance writing or content creation
Virtual assistance or administrative support
Social media management
Graphic design or visual content creation
Website design or development
Online tutoring or teaching
Photography or videography services
Personal training or fitness coaching
Event planning or coordination
Copywriting or marketing services
Language translation or interpretation
Home organizing or decluttering services
Pet sitting or dog walking
House cleaning or maid services
Lawn care or gardening services
Obviously, the ease of making money can vary depending on factors such as market demand, competition, individual skills, and marketing efforts.
To give you a realistic example, I'm a freelance copywriter and I typically charge the following for a few key services:
$500 for Brand Messaging (i.e., Core Values, Mission, Vision, etc.)
$1,000 to $2,500 for Landing Page Copy (i.e., promoting a product)
$5,000 to $10,000+ for Website Copy (i.e., a 5 to 10-page website)
I use the brand messaging service as a way to introduce my copywriting services to new clients, especially startups and local companies undergoing a rebrand or business shift.
After building a relationship with my client, I'll then upsell and pitch my higher-tier services.
While I'm yet to become a millionaire from copywriting, the average lifetime value of a client is between $10,000 to $35,000.
In theory, I would only need to work with 100 to 29 clients to make a million.
That's not bad, right?
A product you sell
Take a look around and count how many products are surrounding you.
If you're like me, you probably have 1,000+ items in your area — a smartphone, laptop, charging cable, pencils, pens, practice butterfly knife, nail clippers, high-quality tea, hiking bag, and more.

There's a lot of potential to become a millionaire from selling products. Just look at the stats:
Yes, there's a lot of competition with an estimated 12 to 24 million online stores. Not to mention ecomm giants like Amazon, Aliexpress, Rakuten, eBay, and Social Media Marketplaces.
But there are also equally ripe opportunities to make a fuck-ton of money selling a product that people want.
Unfortunately, my experience with selling products comes down to:
A failed drop shipping business in Taiwan
Copywriting for a successful Dutch e-commerce brand.
So, I'll return to this topic in the near future with updates as I learn more about the ecomm world.
Final thoughts
If you're reading this, I hope you weren't misled thinking there was some get-rich-quick scheme. I don't believe millionaires are made overnight — unless you have an estranged family member who's about to drop dead and they leave you their fortune behind.
I'm not a millionaire and I don't have a cult of followers to regurgitate my content like Andrew Tate, but…
People like us have to work hard to put decent food on the table, have a comfortable roof over our heads, and enjoy some of the finer things in life.
Whatever you do next — thanks for being here and I'll see you next time.